Dear participants,
the official results have just been published so here is something we have all been waiting for.
A bit of stats – There were 17612 participating students coming from 750 schools spread across 29 countries.
From the Czech Republic there were 8152 students from 337 schools. Impressive, isn´t it?
Gymnázium Blovice took place 52 out of 337, which is a very good result to be amongst the top 52 schools in the Czech Republic. In Europe, our school finished in 161st place out of 750 schools. Again, a very good result!
For the results of individuals click on the picture below.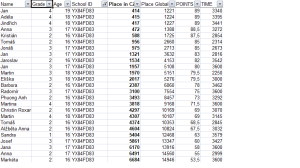 All the participants can be found under their first names.
Thanks to all who took part in the competition and I hope to see you taking part next year again!